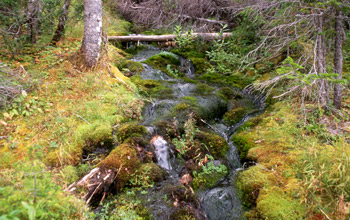 Over the years, the Silva Forest Foundation has completed extensive and diverse work towards education, research, and practical application of ecosystem-based conservation planning. Much of this work is contained in written documents. Although there is often more recent scientific information available, many of these earlier documents provide valuable information that continues to be substantiated and expanded in today's research and literature. We provide the development of our approach in Ecosystem-based Conservation Planning Methodology, as well as in Literature Reviews that we have prepared.
If you are interested in more current scientific support for ecosystem-based conservation planning, we recommend that you purchase Maintaining Whole Systems on Earth's Crown. You can also consult Resources-Key Information.
Forest Visualization was developed to help us and communities by providing a computer picture of what the forest would look like before and after ecosystem-based partial cutting prescriptions had been carried out.
We also provide information about programs we no longer carry out. We are proud of our work in Eco-certification and with International Interns. We invite you to learn more about this former work. Eco-Cert is a trademarked label for SFF's forest management certification. On a fee-for-service basis, we carry out independent forest management audits for those interested in assessing the effectiveness and impacts of ecosystem-based and conventional forestry.
Our Russia Program goes back to 1993. We still do some work with Russian groups through Pacific Environment in California. You can read some of our ecosystem-based conservation planning documents in Russian translation.