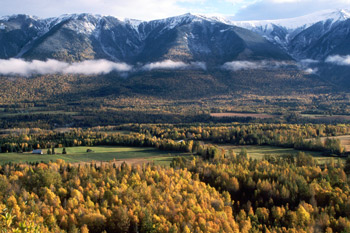 The Silva Forest Foundation believes in sharing the knowledge that we have acquired about ecosystem-based conservation planning. We have learned important pieces required to develop and implement EBCPs from indigenous Elders and other wise people, from communities, and from the scientific literature. One of the most dynamic ways we've found for sharing knowledge is through interactive, often field-based workshops that challenge the learner to participate fully—to learn by doing.
We designed custom workshops to meet the particular needs of a community.
You can learn more about the many workshops and presentations we have given or sponsored since 1994 .
Beginning in 1995 we built SFF's school where we have offered numerous workshops over the years, and have made many friends.
Comments from past participants about SFF workshops:
The most valuable, informative educational experience I have had in years...
The hands on applications were excellent....
The course was well designed and planned, well paced....
This course was an inspiration to me, and as I go back to work I believe that things can and will change...
Excellent balance of basic information and expansion into new ground...