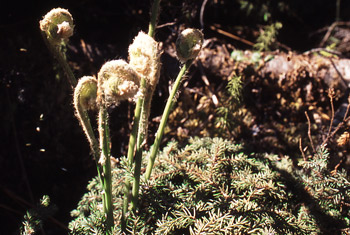 From 1992 through 2019, the Silva Forest Foundation provided the following services:
Ecosystem-based conservation planning: SFF will work with a community to analyze local landscapes and ecosystems, evaluate conventional land use and development plans, design networks of ecological and cultural reserves, develop diverse community economies, and prepare ecosystem-based conservation plans. EBCPs show what ecosystems need to be protected, and how humans can live and work within ecological limits. For the kind of plans and maps that we have prepared in the past, see EBCP—Project Summaries and Resources—EBCP Project Reports.
Geographic Information System (GIS) Support: SFF has extensive experience in developing GIS analyses to fit available data, and in designing clear, eye-catching GIS interpretive maps. On a fee for service basis, SFF will work with communities to develop custom GIS analyses and design interpretive map sets with accompanying graphics that explain the meaning of the maps and analyses. GIS analysis and maps provide useful information for communities, whether you are developing your own EBCP, or participating in a government or industry planning process. For the kind of maps that we have prepared in the past, see EBCP—Project Summaries and Resources—EBCP Project Reports.
Forest Management Certification—Eco-Cert: SFF will undertake audits and field evaluations of forest management plans and practices on a fee for services basis. Our audits and field evaluations are based upon our Eco-Cert standards. Our certification service is independent of other national or international certification programs, including the Forest Stewardship Council. We are also willing to undertake critiques of certifications conducted under other certification programs.
Appreciative Inquiry facilitation and/or training: If your community or organization would like to develop a positive vision for where it wants to go and develop steps for getting there, SFF can provide facilitation services to your group. If you would like to learn how to use Appreciative Inquiry with others, we can provide training. For more information about this positive, energizing, dynamic system, see EBCP—Community and Appreciative Inquiry.
Workshops and training: SFF has provided custom-designed workshops of from 3-5 days (or longer if desired) to many groups. Want to learn more about landscape ecology, conservation biology, ecological economics, and other sciences and disciplines behind EBCP? Want to learn how to prepare ecosystem-based conservation plans? Does the forest in your area need restoration? To learn more, see Education—Workshops and Past Workshops.
SFF has provided longer term, practical training to small groups or individuals wanting to develop and apply practical ecosystem-based approaches in their community. Training can be provided in ecosystem inventory and analysis, GIS mapping, field techniques, ecological restoration, and other topics upon request.
For further information about services available, send an email to silvafor(at)silvafor.org or phone 250-226-7222.